How Does Freerice Work?
Private sponsors match the rice grain donations generated within Freerice, triggering a financial payment to WFP. This money goes into the pot of "greatest needs" to support the organization's ongoing emergencies. 100% of all funds generated via Freerice go to the World Food Programme. Freerice does not earn or keep any money it raises.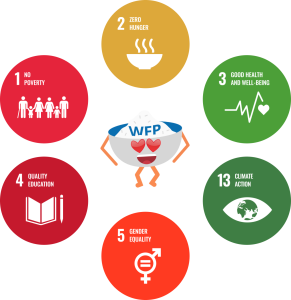 Freerice and the Sustainable Development Goals
The 17 Sustainable Development Goals (SDGs) are intended to guide global policies and shift the world onto a sustainable and resilient path by the year 2030. Sustainable development is at the core of WFP's work, and Freerice helps contribute to several SDGs, including Zero Hunger and Quality Education.
Learn About The Goals
Our Impact
grains of rice donated today
220 billion+
lifetime rice grains
135 countries
a global community of players
About WFP
The United Nations World Food Programme (WFP) is the 2020 Nobel Peace Prize Laureate. We are the world's largest humanitarian organization, delivering life-saving food assistance in emergencies and working with vulnerable communities to improve nutrition and build resilience. In 2022, the World Food Programme aimed to support 160 million people in 123 countries through life-saving food assistance.
Need help?
If you're having trouble with your account, please see our FAQ.
Thank you to our supporters