School Feeding In Cambodia: From Farm To Classroom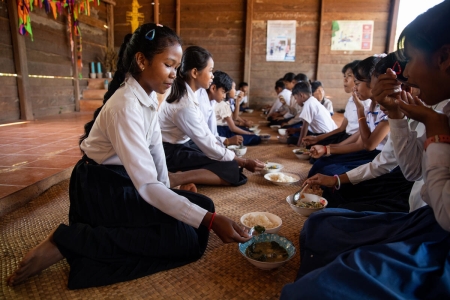 ©WFP/Samantha Reinders
In a country like Cambodia, where almost one-third of children under 5 are stunted as a result of malnutrition, school meals can be a game-changer.
The World Food Programme and the government of Cambodia work together to provide 300,000 students across the country with daily meals that include all the nutrients they need to grow healthy and focus in class. Increasingly, school cooks use ingredients that are grown in the community: a win-win that benefits both the children and local farmers. 
These are the people that make it all happen at Bos Thom primary school in Siem Reap Province (near the world-famous Angkor Wat temples), where 150 children between 6-14 years of age receive a nutritious breakfast every morning.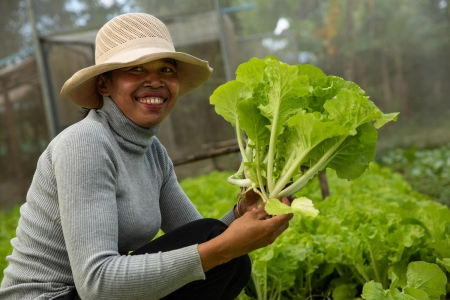 ©WFP/Samantha Reinders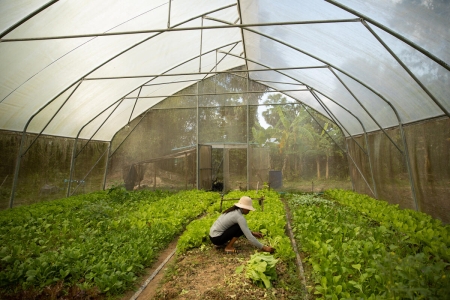 ©WFP/Samantha Reinders
Meet Thom Keer: The Farmer
Thom Keer's farm supplies vegetables to the school meals programme once a week. She takes a lot of pride in her crops. These include eggplant, chilies and lettuce, which she grows in a spacious greenhouse. "My vegetables are free from chemicals, they keep the children healthy and help them grow strong," she says.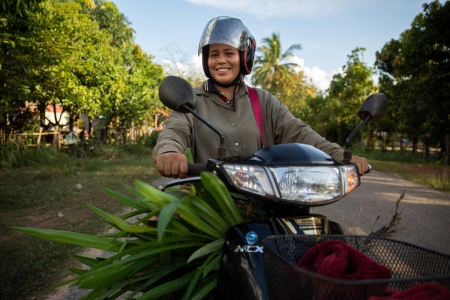 ©WFP/Samantha Reinders
Meet Mech Sinat: The Trader
Mech Sinat used to farm with her husband but, when schools started to buy ingredients locally, she saw a business opportunity for herself: linking them to local farmers.  Every evening, she drives from farm to farm on her moped to buy the ingredients needed for the next day's meals. In the morning, she wakes up before dawn to weigh and sort the fresh vegetables and pack them into bags that she and her daughters will deliver to schools in the area. 
"I wanted to generate my own income, not relying exclusively on my husband and the family farm," she says. With her income, she now buys fuel for the family tractor and pays for English classes for her eldest daughter.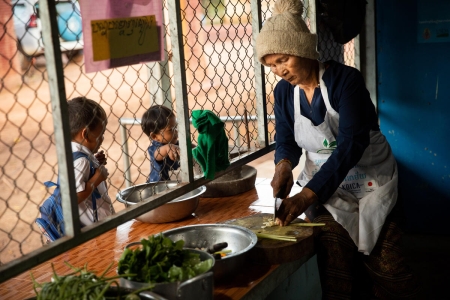 ©WFP/Samantha Reinders
Meet Leach Panh: The Cook
Leach Panh also wakes up early to light the fire in the school kitchen and wait for the ingredients to be delivered. Now 74, she is helped by her daughter. Together they wash and chop the vegetables and cook them with rice and fish or meat in a variety of recipes. "Fried rice is the children's favourite," she says. Having worked at the school for 20 years, she cannot count how many children she's fed – between 100 and 150 a year – but she's happy to see the results of her work.
"Children grow up quickly, and they become smarter," she says. "They now grow taller."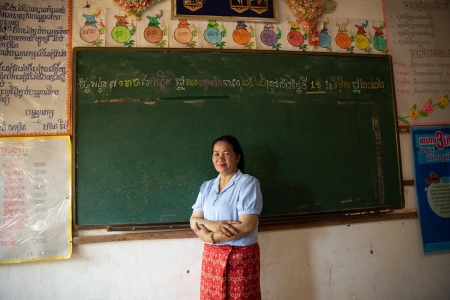 ©WFP/Samantha Reinders
Meet Van Samun: The Headteacher 
As the headteacher at Bos Thom primary, part of Van Samun's job is to ensure the school feeding programme runs smoothly. She can see how this is not only good for nutrition, but for school attendance and performance too, helping new generations to thrive.
"School meals have changed things here," she says of her village, where many adults are illiterate. "More children are being enrolled in school, and fewer are dropping out. Many are continuing into higher education."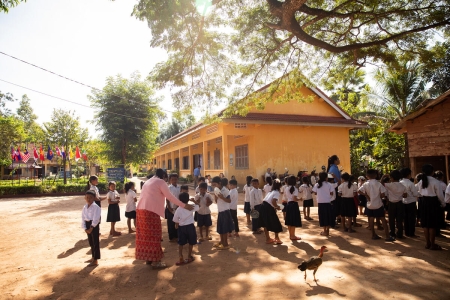 ©WFP/Samantha Reinders