Empowering Zambian Youth: Hydroponics Revolutionize School Meals
UN World Food Programme
in
Youth
Thursday, 15 June 2023
In the heart of Kitwe, Zambia, a remarkable story of innovation and resourcefulness is feeding millions of schoolchildren in the country.  
Meet David, a 15-year-old boy, who embarked on a journey of learning and growth by giving back to his community through hydroponics techniques. With this revolutionary method, David mastered the skill of cultivating crops and discovered a way to transform school meals while addressing food scarcity in his community.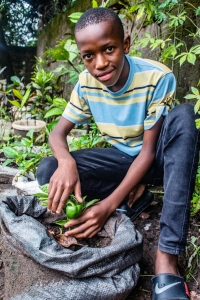 WFP/Sophie Smeulders
Hydroponics is a soilless farming method that offers several advantages over traditional agriculture. A nutrient-rich water solution carefully delivers a balanced nutrient solution directly to the plants' roots. A hydroponics system uses up to 90% less water than traditional farming, offering year-round cultivation, and increasing crop yields. Hydroponics is revolutionizing the way we feed ourselves.  
David's Innovative Approach 
Hydroponics systems are expensive, but David wasn't discouraged. Instead, he created his own affordable solution. 
"We used plastic buckets, recycled bottles, a plastic sheet and a chicken cage to set up the hydroponics site," says David. "We couldn't find any hydroponic fertilizer, so we used soil fertilizer in the water. For the bags, we used old maize-meal bags and charcoal dust as fertilizer."  
The results were astounding. Sweet potatoes, which typically take four to five months to grow, flourished in just three to four months with David's technique.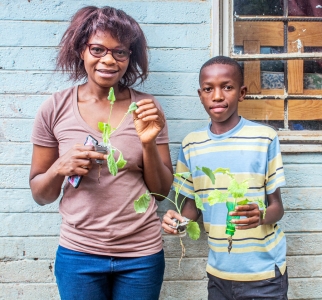 WFP/Sophie Smeulders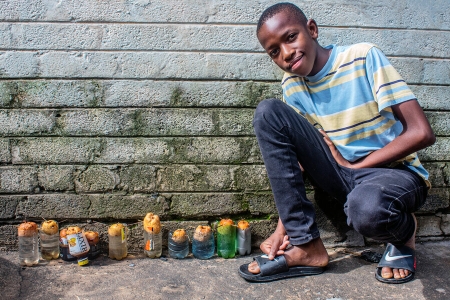 WFP/Sophie Smeulders
Nourishing Zambia's Youth 
In Zambia, over one million schoolchildren rely on locally sourced crops and school gardens for food security, so the power of hydroponics is profound. Access to nutritious meals is crucial to support a young person's growth, learning, and overall well-being, and school meals are a significant incentive for children to attend school. 
Hydroponic methods are a sustainable farming technique that often generate a surplus of crops. This results not only in enhanced nutrition, but also additional income for schools.
Inspired by David's success, hundreds of other school children across the country have adopted these methods, providing access to fresh and nourishing crops for their families and communities. Their collective mission is to expand their efforts and contribute to combat food insecurity.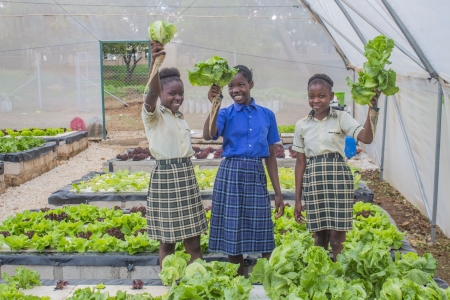 WFP/Sophie Smeulders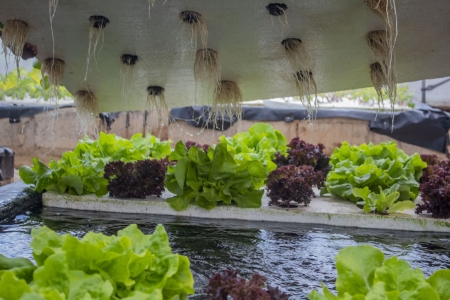 WFP/Sophie Smeulders
Zambia's Climate Challenges: A call for hydroponics 
Located in southern Africa, Zambia has a population of 18 million people and is a nation rich in natural resources and various agricultural commodities. The country's predominantly tropical climate and high temperatures have been increasingly affected by irregular rainfall patterns and extreme weather events. In regions like Kitwe, a significant decrease in annual rainfall has led to water shortages for crops and livestock. As a result, farmers (which produce 90% of Zambia's food) have experienced reduced yields and livestock losses, impacting food availability and livelihoods.  
By minimizing water consumption and having precise control over environmental factors such as temperature, humidity, and lighting, hydroponics empower farmers to overcome the challenges imposed by climate change.  
Implementing this innovative technique also presents a valuable educational opportunity for students in Zambia. It teaches youth about sustainable agriculture, plant biology, and the importance of resource efficiency. Hydroponics systems allow students the opportunity to learn through experimentation, while developing entrepreneurial skills.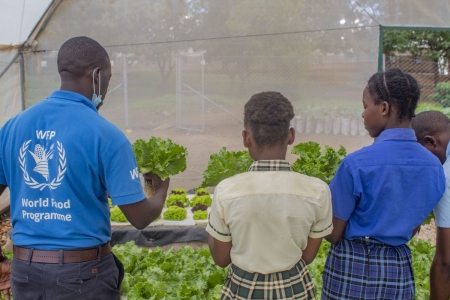 WFP/Sophie Smeulders
David's hydroponics journey not only transformed his life, but also inspired countless others to join this movement.
In collaboration with the Zambian government, the World Food Programme (WFP) has established over 23 greenhouses in schools across the country, introducing hydroponics to students, teachers, and parents. These greenhouses produced an impressive 2,000 plants each, providing approximately 1,300kg of vegetables each month.  
"We had our first harvest in the school greenhouse three weeks after planting," says David. "I couldn't believe it — plants used to take months to grow in the garden and would often dry up when we had no rain. They tasted so fresh." 
Training sessions conducted by WFP have also empowered over 400 individuals through the sharing of knowledge about sustainable agriculture and resource efficiency.  
David's inspiring story demonstrates the power of youth in finding innovative, sustainable solutions to our shared global problems.
---
Join David in his mission to empower the next generation of farmers!  
Share your own innovation journey and inspire others to embrace sustainable agriculture. Use the hashtag #HydroHeroes on social media to showcase your solutions to contribute to a greener future.