Eitan Bernath's Wild Mushroom Risotto [Recipe]
Eitan Bernath, a celebrity chef, entertainer and #ZeroHunger advocate, is one of the UN World Food Programme's High Level Supporters. Bernath will bring together young people to advocate for long-term solutions to food security while raising awareness about the current global hunger crisis.
Here, he shares a recipe for one of his favorite rice recipes with the Freerice community. This recipe was originally published in his cookbook, Eitan Eats The World.
Risotto takes me back to a culinary school intensive I took a few summers ago. There was a whole course dedicated to this Italian classic, a creamy rice dish that is simmered slowly, with warm broth stirred in little by little, so the rice becomes the star of both flavor and texture. Parmesan cheese is folded in at the end and grated on top for a nutty, salty finish, and in this version, sautéed mushrooms give the risotto an added boost of umami and savory flavor.
Risotto has a reputation of being complicated, but that's a misconception I want to clear up right now. The actual method isn't hard at all, but it is a dish that requires constant attention (anyone relate?) and continuous stirring (no multitasking please!). Put on your comfiest kitchen shoes, get your stirring arm ready, set your phone to Do Not Disturb, and in about half an hour, you'll have a perfectly creamy result, better than anything you could order in a restaurant!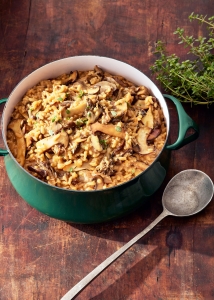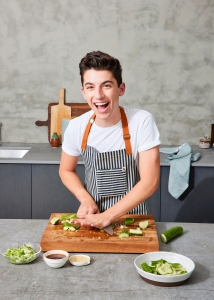 Ingredients
1 1/4 cups Arborio rice
4 cups vegetable or chicken stock
1 1/4 sticks (140g) unsalted butter
12 ounces fresh wild mushrooms, wiped clean and sliced
1 large shallot, minced
1 tablespoon fresh thyme, finely chopped
Kosher salt
2/3 cup dry white wine
1/3 cup freshly grated Parmesan cheese, plus more for serving
1/4 cup mascarpone cheese
Freshly ground black pepper
Instructions
1. In a medium pot with a lid, bring the stock to a simmer over medium-high heat, then lower the heat to maintain a slow simmer. Cover the pot while you cook the mushrooms.
2. Melt 1 stick of the butter in a large sauté pan set over medium heat. Add half of the mushrooms and sauté until tender and beginning to brown, 8 to 10 minutes. Using a slotted spoon, transfer the cooked mushrooms to a bowl, leaving the leftover butter in the pan, then repeat with the remaining mushrooms. Set aside.
3. In the same pan, add the remaining 2 tablespoons butter, the shallot, thyme, and a pinch of salt. Cook until the shallot begins to soften, about 4 minutes. Add the rice and cook for 2 minutes, stirring often, until the edges are translucent and the rice starts to smell nutty. Pour in the white wine to deglaze the pan, stirring it with a spatula and scraping to release any bits that have stuck to the bottom. Simmer, continuously stirring, until the wine has reduced by half, about 1 minute.
4. Add 3⁄4 cup of the simmering stock and stir occasionally until the rice has absorbed most of the liquid, 2 to 3 minutes, keeping an eye on the pan. Continue adding stock in 3/4-cup increments until the rice is al dente and creamy. (You may not need all the stock.) After 25 minutes, start tasting the rice to check its doneness: it should be tender but with a slight bite to it.
5. Once cooked, remove from the heat and stir in the Parmesan and mascarpone until the cheeses are fully melted and combined with the rice. Add the cooked mushrooms and stir to combine. Season with salt and pepper and garnish with the fresh Parmesan. Serve immediately.