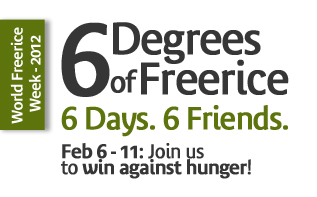 You may know the 6 Degrees of Separation theory: you and I are connected to every other person on earth through at most six other people.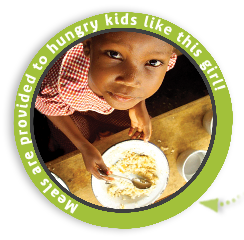 This is the inspiration behind "6 Degrees of Freerice", the theme of our first World Freerice Week running February 6 - 12, 2012.
The idea is simple. You create a group and recruit six friends, they in turn recruit another six people, and so on... our online movement to fight hunger will exponentially explode! And many more people will discover Freerice.
(For those who don't know, Freerice is an online trivia game where each correct answer earns 10 grains of rice for the world's hungriest – it's an addictive online game with a real-world impact. Those grains of rice will go to a hungry child who is only six degrees away from you and me.





Find out how it works and how to win
Use our toolbox to spread the word
Use our World Freerice Week Calendar to inspire yourself daily!

When: Six days, February 6 - 11, 2012
What: Between February 6 and 11, create a group with "Freerice6" in the title (or join an existing group). Recruit 6 friends to join it. Ask each friend to recruit another 6 friends, etc. and play Freerice like crazy! The earlier you start, the better.
Take a look at How to Create a Group, to below.
How to Win: A Flip cam and Freerice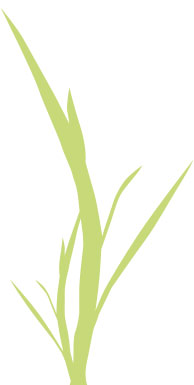 T-shirt will go to the group founder with the most members, the group founder whose group raises the most grains, as well as the individual who raises the most rice. The largest group members list will also go up on the Freerice Wall of Fame until next year's World Freerice Week.
But everyone wins – you have fun, become smarter, and help the hungry!
Register on Freerice.com if you haven't already.
Log in to Freerice, and create a group. To qualify for the prizes, your group should be created any time between February 6 - 11.

IMPORTANT:

Make sure you include the prefix "Freerice6" in your group name (e.g. "Freerice6 Group Name").
Share your group link with your friends and family, and invite them to join and play!
Use our World Freerice Week Calendar and Resource Box to help you recruit your 6 players, and more! (You can invite as many people as you like! The more people you invite, the more likely you are to win a prize!)
Remember to ask your 6 people to recruit another 6 players.
Have fun, learn, and raise as much rice as you can by midnight (CET) February 11!

Use the daily suggestions to recruit your players.
Also take a look at our Resource Box below, and grab an avatar, Twitter background, lesson plans, posters and more!
Feb 6
Let's get started!

- First create your group (see How to Create a Group instructions).
- Then share the link to your group on Facebook and Twitter.
Feb 7
Go big! Build the momentum!

Email your friends and family - here's a sample note you could send.
Feb 8
Freerice has a surprise for you!
Feb 9
Half-way there (3 days to go)!

- Email a reminder to friends and family
- Use Twitter and Facebook to remind your friends and family to join your group
Feb 10
Freerice has another surprise for you!
Feb 11
Today is about YOU:

- Write on an sheet of paper:"I recruited [number recruited] people in the fight against hunger on Freerice.com!"

- Take a photo of yourself holding the paper

- Upload to Flickr and tag it "freerice6"

Then check out "6 Degrees of Freerice" gallery and see if you can spot yourself!
Feb 12
Gong! See if you've won a flip cam and T-shirt on Monday.
Download the ICS file to add this calendar to your Outlook calendar

Poster




Profile Picture/Avatar




Facebook Timeline Cover




Twitter Background




Banners




Lesson plans



Poster

Download and print this poster
Stick it up around your school, office or community



Profile Picture or Avatar

Download this profile picture for Twitter or Facebook
Give your social media profile a "6 Degrees" twist



Facebook Timeline Cover

Update your Facebook page
Get the new Facebook Timeline, and update your cover picture to "6 Degrees"



Twitter Background

Update your Twitter background
Get a new Twitter background



Banners




Lesson Plans

Download Vocabulary lesson plan
Lesson plan uses the Vocabulary subject to encourages vocabulary, creative writing, language and communication development. It is adaptable to multiple grades.
Download "Flags of the World" lesson plan
Lesson plan uses the Flags of the World subject to encourages development of map skills, critical thinking, research, writing to inform, as well as an understanding of coordinates, relative and absolute location. It is suitable for Grades 5-7.